Dagelijks Jubel-nieuws op uw website?
Cliënten zoeken hun advocaat, fiscalist of boekhouder meer en meer online. Vindbaar zijn op de digitale snelweg wordt dan ook steeds belangrijker. Een eigen website hebt u mogelijk al, maar is die ook dynamisch en up-to-date? Voorziet u uw cliënten op regelmatige tijdstippen van relevante, actuele informatie?
Wij bieden u een eenvoudige oplossing: abonneer u op een feed met content van Jubel en/of Advocatennet en uw website wordt automatisch voorzien van de laatste nieuwsberichten en/of video's, gefilterd volgens de criteria die u kiest. Zo onderlijnt u uw expertise en houdt u uw website dynamisch en actueel met relevante inhoud, volledig op maat van uw kantoor.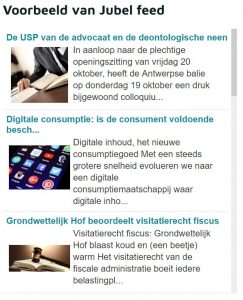 Bekijk hier een voorbeeld van een Jubel-feed en een Advocatennet-feed.
Heeft u interesse om het Jubel-nieuws op uw website te plaatsen?
Neem contact op via onderstaand formulier of bel 014 73 78 11.
[contact-form-7 id="4880″ title="RSS Feed interesse"]